Car Rental Austin Airport [AUS]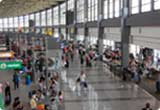 Austin-Bergstrom International airport is a busy and relatively large airport. Many major carriers including Virgin, Southwest Airlines, and United service the airport on a daily basis. Many direct routes are available to major locations such as Houston, Washington DC, Denver and Salt Lake City; other connecting flights are also available.

The Austin-Bergstrom airport has all the amenities travellers expect for an international hub. However, there are also some unique services that make this airport more pleasant for users. One such program is called "Music in the Air." Local talent is invited to play at the six designated terminals throughout the facility. Another feature which makes this airport stand out is the art galleries. Art exhibitions, some permanent some temporary, in various media graces the concourse.

Book your car from VIP Car now; it's the best way to get to Austin from the airport.