Car Rental Dallas Love Field Airport [DAL]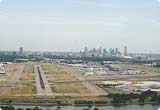 A much smaller airport than Fort Worth, the Dallas Love Field aims to be an evolution in airport experiences and they claim to be the finest mutli-use airfield in the world. Three major carriers (Southwest, United and Delta) plus the smaller charter Seaport Airlines offer service from Dallas Love Field. The airport includes a selection of restaurants and concessions, for the convenience of passengers.

To enhance the community and foster support from nearby businesses, this airfield has implemented a good neighbour program. Through this program the airport is involved with supporting local organizations, urban beautification projects and assisting with way finding initiatives. As with a handful of other airports, this one has an art exhibit in its facility. This display serves to create a friendlier environment and as a gateway to the city of Dallas.

To get to and from the airport with the most convenience you should rent a car. An early booking is the best way to be sure of your preference's availability. Reserve your choice of vehicle today on VIP Cars.