Car Rental San Antonio Airport [SAT]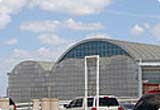 This airport large and busy is a major hub for flights and connections. More carriers offer arrivals and departures from this airport than many others in Texas. Similarly, the range of nonstop flights from San Antonio is much more extensive than most other airports, due its position as a regional hub.

The airport offers the usual amenities: Wi-Fi, a variety of cafes, shops and duty free stores and similar facilities. There are also airport ambassadors who can answer any questions about finding your way around this large airport.
What makes this airport unique; however, are the numerous art displays. These displays include a large circle of Samsonite luggage, a comment about the life of a traveller, a coiled gold rope that is meant to resemble the sun and stunning mosaics depicting the history of San Antonio, among others.

To get to your destination from the airport to San Antonio or another city, you are best advised to rent a car. Make your booking early, from VIP Cars, to be assured of your preference.