Car Rental St George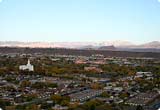 St. George, Utah is a city of natural beauty and splendour. It's located near the Mojave Desert, the Pine Valley Mountains and Zion National Park. As with much of Utah, the Mormon influence is strong here. Some religious sites of note are the Temple, Brigham Young's winter home and the city's Tabernacle. Natural sites, mentioned above, are nearby and can be easily accessed especially if you have a rental car. For a perfect family time, try out the laser tag centre. Golfers will appreciate the selections of courses in the city. There are markets and 'villages' in and near the city where you can buy traditionally made arts and crafts. These make excellent souvenirs or gifts.

There is so much to do and see in the St George region, the best option for transportation is by car booked online with VIP Cars. We recommend making your booking in advance, so it's ready for you when you arrive.