Book a Cheap Seattle Airport Car Hire From Anywhere! Anytime!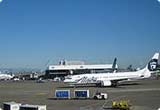 At VIP Cars, we put in every effort to give you the cheapest car hire deal for Seattle Airport right from the comfort your home. With a vision to make car rental accessible to everyone with best booking deals, we give you a state of the art booking engine to compare best rental options from top brands in Seattle.
Leading Car Hire Suppliers at Seattle Airport
Our rewarding association with the major US car hire brands, including Alamo, Enterprise, FOX USA, National, Sixt, and Thrifty Tour, gives us a direct access to unbeatable deals, lowest prices, and an array of free add-ons. So, hiring a car for Seattle Airport from us simply translates into big savings for you!
Alamo
Enterprise
Fox USA
National
Sixt
Thrifty
What are the Type of Rental Cars Available for Seattle Airport?
We offer a large rental car fleet, from compact cars to intermediate sedans, SUV and vans to stylish convertibles and luxury cars. Our decadelong expertise in car rental domain guides us to select the best car hire suppliers with the best vehicles, thereby ensuring a hassle-free car rental experience at Seattle-Tacoma International Airport.
About Seattle-Tacoma International Airport (SEA)
17801 International Blvd, WA 98158
Ranked among the fastest growing airports of the United States, the Seattle-Tacoma International Airport handles more than 30 million passengers every year. Besides serving as a hub for the Alaska Airlines, the SEA offers flights to several destinations across North America, Europe, Asia, and the Middle East. Book a rental car for Seattle Airport in just few moments. Our easy to use booking engine, along with thoughtfully planned filter options, assist you in getting the cheapest rental car deal for Seattle Airport.
Where To Find Booked Rental Car At Seattle Airport?
Sea-Tac Airport houses a dedicated Rental Car Facility spread across 9 hectares, with space for more than 5,400 cars. Catering to more than 14,000 passengers everyday, such an elaborated set-up looks like a challenge if you seek an on the spot car rental. An advance car hire reservation for Seattle-Tacoma Airport is all what you need to bypass all the stressful commotion of finding a right car at the best rate. A pre-booked car hire gives you the privilege of just collecting the keys of your rental car from the car hire desk concerned.
Looking For Top Attractions in Seattle?
A major seaport city on the US' western coast, Seattle seamlessly blends its classic urban architecture with natural attractions. A rental car is arguably the best way to lessen the stress of navigating through a big city. It gives you much required time to plan your itinerary and freedom from the inconveniences of the public transportation system. Moreover, a rental car in Seattle will save you from its infamous rainy weather. Following is the list of Seattle's popular attractions:
Space Needle
Pike Place Market
Experience Music Project Museum
Pacific Science Center
Woodland Park Zoo
Museum of Flight
The return address will be provided by the supplier at the time of pickup.
Interested in Road Trips From Seattle?
Driving around a typical mega city could stress you out. But don't forget that you are lucky enough to have come to Seattle. Certainly, the rain could be quite unwelcoming at times, but there is also an option to plan a trip to Canada, go to a beach, or enjoy hiking over a mountain in just couple of hours. Pick up your rental car and get ready for any of the following fantastic road trips from Seattle.
Day Trips Around Seattle
Whidbey Island (Approx. Distance 35 miles; Famous for: Beach, Restaurants, Grass Fields)
Friday Harbor (Approx. Distance 103 miles; Famous for: Beach, Antiques, Souvenirs)
Olympic National Park (Approx. Distance 110 miles; Famous for: Hot Springs, Rain forest, Camping, Lakes)
Diablo Lake (Approx. Distance 124 miles; Famous for: North Cascades Highway, Waterfalls, Campsites)
Westport (Approx. Distance 130 miles; Famous for: Beach, Farm Tours)
Leavenworth (Approx. Distance 135 miles; Famous for: River Rafting, Hiking, Skiing, Mountain Biking)
Yakima (Approx. Distance 142 miles; Famous for: Yakima Valley, Wineries)
Lake Chelan (Approx. Distance 198 miles; Famous for: Fishing, Hiking, Pools, Biking)
Need Information on Driving a Rental Car From Seattle to Canada?
Driving to the nearby cities of Canada is exciting and fulfilling as you get an opportunity to discover more during your Seattle trip. Have a look at the following 'to-do' points before you decide to cross the border:
Inform your car hire company as and when you are planning to drive to Canada. Don't forget to ask about the Canadian Insurance ID card, which is generally required if you drive a rental car in Canada.
As the US-Canada border, while going to Vancouver from Seattle, is secured, a quick entry into the Canadian territory may not be always possible. A little bit of wait in general, and a long one in particular during late noons, is pretty normal at the border crossing.
The following two road trips from Seattle to Canada are the most-sought after ones:
Vancouver, BC, Canada

(Approx. Distance 143 miles; Famous for: Stanley Park, Capilano Suspension Bridge)

Whistler, BC, Canada

(Approx. Distance 202 miles; Famous for: Ski Resort, Mountain Biking, Shannon Falls)
---
Seattle Airport Car Hire Tips
As the Seattle-Tacoma Airport is about 15 miles away from the main city, it will not take more than 20 minutes to reach Downtown Seattle. Keep in mind the following useful tips so that you don't go sleepless in Seattle!
Board the bus from terminal to reach SEA Rental Car Facility, which is situated at 3150 South 160th Street. Operating 24 hours a day, buses pick-up passengers from 2 points situated outside the baggage claim area at the main terminals' north and south ends.
Whether you are visiting Seattle for leisure or business, having a rental car equipped with a GPS navigation system is a boon. It not just shows an accurate route but also provides real-time traffic alerts.