Car Rental Yeager Airport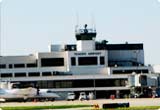 Located about 3 miles east of Downtown Charleston, Yeager Airport is a public usage aerodrome facility. VIP Cars, a widely acclaimed car rental broker, offers budget friendly Yeager Airport car rental deals through its network of car rental suppliers such as, Advantage Rent a Car, National, Alamo, Sixt, ACE, and Dollar Retail.

Guide to Yeager Airport

Owned and administered by the Central West Virginia Regional Airport Authority, Yeager Airport's annual aircraft and passenger handling capacity is estimated to be more than 102,223 and 264,818 respectively. Besides civilian aircrafts, Yeager Airport is home to C-130 Hercules combat aircraft of the West Virginia Air National Guard's 130th Airlift Wing.

Use VIP Cars simplified online car rental reservation portal to book a suitable Yeager Airport car rental deal!