Car Rental Greenbriar Valley Airport (LWB)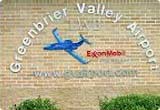 Located around 3 miles north of the Lewisburg Central Business District, Greenbriar Valley Airport is an exclusive civilian aerodrome facility. Sprawling across 472 acres, the airport's terminus includes check-in counters, baggage clearance section, passenger lounge, and Dutch Haaus restaurant. VIP Cars, a specialized car rental broker with presence across 152 nations worldwide, offers irresistibly priced Greenbriar Valley Airport car rental deals through its alliance partners such as, Dollar Retail, Advantage Rent a Car, Alamo, National, Sixt, and ACE.

Guide to Greenbriar Valley Airport

Owned and operated by the Greenbrier County Airport Authority, Greenbriar Valley Airport handles more than 12,293 passengers and 22,107 aircraft operations every year. Silver Airways is the sole passenger air carrier that operates regular flights from Greenbriar Valley Airport to Washington-Dulles International Airport and Atlanta-Hartsfield International Airport.

Book an exclusive Greenbriar Valley Airport car rental deal now!