Car Rental Caracas Airport [CCS]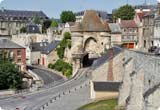 Caracas Airport, officially known as the Simón Bolívar International Airport, is a public airport serving Caracas and its surrounding areas in Venezuela. Located in the town of Maiquetia, around 13 km's from the Caracas city center, this airport serves as the country's primary gateway and serves over 10 million travelers annually. This airport is divided into two terminals- domestic and international, and has flights to most major destinations in the Caribbean, the America's, Europe and the Middle East. This airport is used by a number of major international as well as budget airlines and is the headquarters of Conviasa, the largest airline of Venezuela. This airport also has a number of amenities in it for the convenience of travelers such as free Wi-Fi, VIP lounges, retail stores, duty free shopping, fast food joints, cafés, restaurants, and bars.

So, book now and get efficient car rental deals from VIP cars at Caracas Airport.