Car Rental Arturo Michelena International Airport [VLN]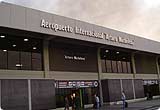 Arturo Michelena International Airport is a public airport serving the city of Valencia. This airport is named after a famous Venezuelan painter and is located at a distance of 10 km's from the Valencia city center. This airport is mostly used by low cost airlines such as Aeropostal, Aserca Airlines, Avianca, Avior, Copa Airlines, Dutch Antilles Express, Insel Air, LASER Airlines, and Perla Airlines who connect it to destinations such as Porlamar, Barcelona, Maracaibo, Puerto Ordaz, Curaçao, Panama City, Bogotá, and Miami. This airport is also used for general aviation, for charter flights and for private aviation by businessmen. Arturo Michelena Int'l Airport also has many modern amenities for the convenience of travelers such as a diner, lounges and many more in it.

Traveling by rental car is the easiest way to commute in Valencia. So, book now and get affordable deals at Arturo Michelena Int'l Airport from VIP Cars.