Car Rental Albania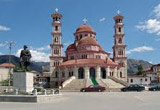 Discover Albania's awe inspiring locations in a rental car! Pre hire your car from us and travel at your own pace in Albania.

Albania is an off the beaten path destination undiscovered by many. Surrounded by Albanian Alps on the northern side it is blessed with Mediterranean coastline, beautiful beaches, waterfalls and picturesque villages which makes a rental car in Albania an important means for tourists who wish to explore it all. 

Best Places in Albania

Berat

Situated by the river Osum, Berat is called the 'City of Thousand Windows' as its traditional houses have many large windows. The main attraction of this city is the historic castle perched on a hill. Culturally rich, the city is surrounded by a beautiful countryside and villages which can be best explored by renting a car! Berat also consists of three world heritage sites which are worth visiting.

Apollonia

Apollonia is an ancient town which is listed amongst the most import ruins in the world. You can visit theatres, libraries, archs and rotten mansions when in this historical city.

Albanian Riviera

The Albanian Riviera is one of Europe's most celebrated leisure destinations. The perfect way to spend your holiday in Albania is on the beaches of this Riviera. Newly built hotels and other attractions make sure that you have a nice time on the Albanian Riviera.

Kruja

Kruja is located close to the capital of Albania and is surrounded by Skanderberg-mountains.The important landmarks of the town include Kruja castle, Skanderbeg museum and the national park Qafe Shtama.

Tirana

Tirana is the most visited city and the Mt Dajt located next to it offers great views of the city. Tirana International Airport Nënë Tereza located in this city is the main airport serving Albania.

Durres

Durres is the Harbor city in Albania which is also known as its cultural capital. Many cultural events of the country take place in this city. Durres is famous for its amphitheater, beaches, shopping areas and scenery.

What to eat

Fresh produce such as peppers, figs, olives and leafy greens are extensively used in the Albanian cuisine. Freshly baked corn breads, roasted lamb, chicken and rabbits served with rice and yoghurt sauces form staple meals in Albania.

Transportation in Albania

Due to the prevalence of a poor bus and train system in Albania renting a car is highly recommended. We give you access to exclusive car rental deals through top suppliers in Albania. Our easy to use, secured and responsive multicurrency booking engine makes hiring a car extremely simple for you. Contact us now and in a few easy steps get cheapest car rental deals for top cities and airports in Albania.