Car Rental Tirana Airport [TIA]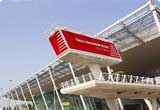 We provide travelers with affordable car rental deals at Tirana Airport. Tirana International Airport Nene Tereza is the only int'l airport in Albania, and is named after the venerated Mother Teresa. This airport is located around 11 km's northwest of the city of Tirana in the Rinas village. Major car rental companies such as Alamo and Sixt provide us with a large fleet of cars at Tirana Airport to present travelers with. This airport serves over 1.8 million passengers annually and has flights to many destinations around Europe. This airport has many modern amenities in it including business lounges, duty free shopping, retail shops, restaurants and cafe's along with rental car counters. So, contact us now and book discounted car rental deals at Tirana Airport.

Tirana is Albania's largest city and its capital. The Fortress of Justine or the Tirana Castle is a 14th century fortress which was built by the Byzantine empire here. The Clock Tower was built in the 19th century and is another prominent landmark here. Ish Biloku is the upscale part of the city containing trendy nightclubs, bars and restaurants in it.
So, contact us now and get attractive car rental deals at Tirana Airport.