Car Rental Hilton Resort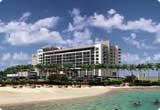 A stunning five-star hotel located within a 17th century fort, the Hilton Resort is one of Barbados's premier hotel destinations. With its modern amenities and facilities, it is not difficult for tourists to fall in love with Hilton Resort.

A popular tourist destination on its own, the resort is adjacent to the beach thus guests can enjoy the azure and calm waters of the Caribbean Sea. The Hilton Resort also offers different recreational facilities for the entire family can enjoy. Aside from that, the resort is also at close proximity to nearby attractions in Barbados.

Those who want to explore what's outside Hilton Resort can hire cars from VIPcars.com. Barbados offers a lot of exciting places for tourists and the best way to travel is by vehicles provided by VIP Cars. We have an extensive selection of cars to choose from.