Car Rental Cartago Downtown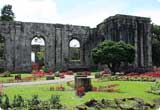 Cartago Downtown is one of the most attractive and modern central business districts of the most modern city in Costa Rica. Cartago Downtown will allow you to unwind with several high-end retail therapy outlets. You can also rent a car to drive to one of the holiest shrines in the country. Best time to enjoy the bustling commercial and colonial residential centers, replete with entertainment centers and luxurious spas, is the month of August.
You can weave your way through designer outlets into the flea markets to bargain your way into purchasing the best local goodies, for friends and family back home. To make the most of your stay in Cartago Downtown is to find a car rental deal with us.