Car Rental San Jose Downtown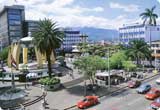 San Jose downtown located in the capital city of San Jose in Costa Rica is one of the most popular places with locals and tourists alike. San Jose downtown is replete with local shops, office towers and several shopping malls. Providing tourists with the perfect blend of stunning scenic beauty and cosmopolitan lifestyle, this downtown will completely mesmerize you. This downtown is also known for its vibrant nightlife.
San Jose downtown is charming because of its colonial style facades which provide a historic background to the emerging cosmopolitan nature of the city. You can travel around San Jose downtown with the excellent car rental. Book online and choose your pickup destination to enjoy a memorable trip in Costa Rica.