Car Rental Tamarindo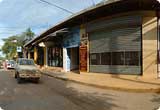 Tamarindo has for decades been a tourist destination for well-known personalities and celebrities. Recently the city has been emerging as the destination for adventure seeking surfers and for the older generation who wish to sit back and relax, while admiring the scenic beauty surrounding them. Tamarindo is also emerging as a biodiversity conservation spot in Costa Rica and home to nesting sea turtles. In Tamarindo you can be sure to enjoy your time on the beaches despite being surrounded by teeming crowds of tourists and locals alike.
There are numerous beaches around the city and hence you can get your preferred suntan while jostling on the crowded beaches. You can travel around Tamarindo by availing the fabulous car rental services of Vipcars.com. Book your car rental online and plan your itinerary the way you want.