Car Rental Tallinn Downtown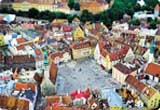 The city of Tallinn is the capital city of Estonia, and has a great historical and cultural heritage. When visiting Tallinn downtown, it is must to have a rental car for your convenience. You can easily book one from VIP Cars, which is a leading car rental broker service provider. Points of interest include – old buildings, Town Hall, City Wall, Ex-KGB headquarters, and the cathedral of St Mary's. Other out-of-the box locations include - northern Tallinn Downtown, which houses the city's open air museum, Tallinn Zoo, National Art Musuem, Tallinn Linnahall, Patarei Prison, Holy Brigitta Monastery and many others.

Book a car rental deal from VIP Cars and get cheapest deals for Tallinn Downtown!