Car Rental Tartu Downtown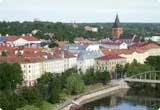 As a tourist in Tartu city it is a must that you explore Tartu downtown. And the most expedient way to do this is through VIP Cars. Choose from economical, luxury or SUV car online and get an all-inclusive deal for your rental in Tartu Downtown.

So the first leg of the tour is the old city which houses the remnants of the old Tartu that wasn't destroyed by wars. It has charming scenery filled with quaint shops, bars and eateries. Then drive to AHHAA Science center which is a perfect way for your little one to discover and like science. Another popular attraction is Tartu Toy Museum which is housed in an old building with permanent exhibits of Estonian children's toys through the years.

If you are in Tartu Downtown from September to May then a ticket to Vanemuine Theatre is a must try and enjoy musicals, drama, concerts and dances. Book your car in advance!