Car Rental Helsinki City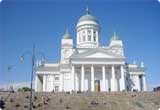 Helsinki City is the largest city in Finland and is also capital of the country. Helsinki is located on the shores of the Baltic Sea and also the Gulf of Finland providing some of the most spectacular views on the shores of both the water bodies. Helsinki is a popular tourist spot providing numerous entertainment options ranging from adventure sports to high end retail therapy and also premium healthcare. As a tourist, you can also sample the vibrant nightlife of the city while indulging in the rich theatre and music culture of the city.You can travel around Helsinki in the most comfortable manner by rent a car from VIP Cars.

VIP Cars provide its services across several neighborhoods in Helsinki allowing you to comfortably travel across the city in an affordable manner.