Car Rental Corfu Airport [CFU]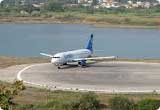 Corfu Airport is locally known as Ioannis Kapodistrias or more correctly known as Corfu International Airport. Corfu Airport caters to both chartered and scheduled flights within Greece and neighboring cities in Europe. Corfu Airport hosts plenty of seasonal flights especially between the months of April to October between cities like Vienna, Rome, Amsterdam, Dublin, Malta, Bucharest and many more.In order not to be jammed in Corfu Airport waiting for transportation, best have a prior booking at VIP Cars for a car rental. Check out the traditional village of Kynopiastess which is just 10 km away from Corfu Airport. The village has beautiful old mansions dating back to the 17th century.

Just within the village's outskirts is the 17th monastery of Agia Paraskevi. Eat at Trypas which is an internationally renowned restaurant.