Car Rental Mykonos Airport [JMK]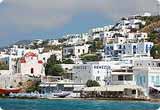 Mykonos Airport is best known as the Mykonos Island National Airport which is situated around ten minutes' drive to the town of Mykonos. The Mykonos Airport offers flights within Greece and neighboring European cities like Vienna, Munich, Madrid, Brussels and many more. However during non-summer season Mykonos Airport has very limited operating hours as well as flight offerings.
We recommend that you get a rental car from VIP cars whenever arriving at Mykonos Airport. This will give you better time management when checking out the attractions around Mykonos Airport. Quick and easy online bookings are available at VIPcars.com with a low price guarantee too.

First check out the Archaeological Museum of Mykonos where you can find funerary urns, vases, grave statues that dates back to late Hellenistic era. Have a great swim, sunbathing or simply relax on the beach of Psarou. Lastly, visit the nearby island of Delos, a UNESCO site renowned for its archaeological excavations.