Car Rental Montego Bay Cruise Port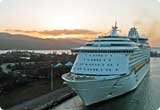 Hub for luxury Caribbean cruise liners, Montego Bay Cruise Port is worth your time. A famous tourist hotspot for the last fifty years, the place is best known for scuba diving, snorkeling, surfing, and variety of other water sports. You can also consider a visit to Montego Bay Marine Park, a beautiful aquatic park, thriving with rich collection of fish species and as well as other marine life. Pick up a rental car from Sir Donald Sangster International Airport, the nearest aerodrome facility, and enjoy a delightful drive to the centre of scuba expedition trips.

Just search, select, and book an irresistibly priced Montego Bay Cruise Port car rental deal from VIP Cars in three simple steps now!