Car Rental Amman Downtown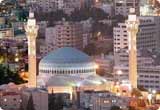 Amman, the largest city of Jordan is infused with Mediterranean mystic and aura. It has transformed a lot, in order to keep up with the growing commercialization of neighboring places and a desire to attract tourist from around the world. However, for those who still want to experience old Amman, then Amman Downtown is the place for them.

It is filled with many shops, street vendors and souqs. Amman downtown is also known as Balad. Another section of Amman downtown is Abdali. Like every other place in the city, Abdali too is getting a modern makeover. Today it has become a tourist centre, where there are broad boulevards fixed with eating joints, shops and different other source of activities. If you want to get around the Old Amman or Amman Downtown easily, while exploring all the interesting places, joints and activity sources, then rent a car from

VIP cars and get around as easily as possible.