Car Rental Kosovo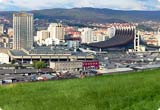 Kosovo is a disputed territory and de facto independent country located in South Eastern Europe. If you are interested in more than just viewing attractive mountains and ancient remnants on your vacation to the region, Kosovo sturdily endorses itself.

Capital of Kosovo. Capital city Pristina is home to many museums and mosques. Kosovo Waterfall of the Drini River is situated north of Peja after the Berdynaj village. Decani Monastery is a UNESCO World Heritage Site and one of the most significant monasteries of the Serbian Orthodox Church in Kosovo. Prizren is the most historic city in Kosovo and numerouslovely examples of Islamic architecture. Gjakova Old Bazaar is a very striking old shopping centre from the 17th century. Car rental in Kosovo is the best and economical option to explore all the attractions with utmost ease.

Make your stay in Kosovo convenient with a low priced rental service, as we enjoy friendly association with leading rental brands in the country.