Car Rental Prishtina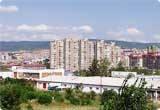 Prishtina, one of the premier cities of Kosovo, is known for its warm hospital and friendly people. The Gracanica Monastery is just outside the city and it is a Serbian enclave, a famous monastery and the main tourist attraction. After the divine intervention at the monastery, travellers can stroll down the downtown of Prishtina at the Mother Teresa Boulevard.

Many of the streets of Prishtina are pedestrianized. Therefore, one can walk down the streets and lounge at the many bars and cafes that are found sprawled at the streets' sidewalks. Along with these bars and cafes, tourists can also enjoy shopping at the local shops and items available with the vendors at the sidewalks. Find your way through the streets of Prishtina to explore the local and nearby sights of interests with a comfort of rental car.