Car Rental Riga Downtown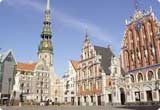 Riga Downtown acts as a perfect base to explore Latvia's captivating capital city. Crammed with accommodation options, restaurants, bars, shops, attractions and various amenities, Riga Downtown is a really popular place to stay. Indeed, Riga is quickly becoming a leading destination in the Baltic States, with many people choosing to spend vacations in lovely Latvia. Those short on time may benefit from using a rental car to fully appreciate the dazzling array of things to see and do near Riga Downtown,
whereas those with a little more time can easily venture into surrounding areas for greater exploration.

VIP Cars can swiftly take care of all your car hire needs in Riga Downtown, allowing you to fully enjoy your time in Riga. Mix popular sight-seeing places with the pristine beaches, and combine daytime and night-time activities to create a wealth of memories of a wonderful time in Latvia. Book economical deals for Riga now!