Car Hire Belle Mare Downtown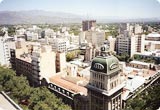 A popular tourism destination, Belle Mare Downtown is known for its natural beauty, luxury resorts, and a vibrant nightlife. As the place is close to number of other seaside locations, a rental car is preferred by travelers. We, at VIP Cars, offer cheap and best Belle Mare Downtown car rental deals through our leading alliance partners, which are renowned domestic car rental suppliers of the African subcontinent. You get wide fleet of rental cars to choose from, along with plenty of suitable commuting deals that come loaded with an array of supplier inclusions. Additionally, you can choose competitively priced additional features like, GPS tracking system, four-wheel drive, and traction control.

Count on VIP Cars for a reliable Belle Mare Downtown car rental deal!