Car Hire Sugar Beach Resort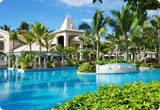 Near the great Casuela Nature Park, the spectacular Sugar Beach Resort offers guests the utmost in luxury and style in beautiful surroundings. The grand main building sits in gorgeous landscaped grounds, with overhanging palm trees, colourful flowers and wide paths. There is a delightful swimming pool, where one can relax, swim, laze and sip deliciously exotic cocktails in the warming rays of the sun. The resort itself sits next to some of the best white sandy beaches in the world, as well as unrivalled rolling countryside and dramatic mountains. Comfortable well designed rooms, tempting cuisine, excellent activities and friendly staff help to make your stay at Sugar Beach Resort a cherished experience.
For your convenience, VIP Cars offer easy online car rental booking for locations across Maturities including Sugar Beach Resort. All inclusive packages and great rates remove the hassle from renting a car.