Car Rental Nampula Airport [APL]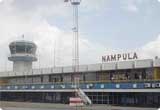 Nampula Airport serves the city of Nampula in Mozambique. The airport is home to Kaya Airlines and has decent facilities with two paved runways. Currently, the airport serves flights from both local and international destinations from airline companies which include Air Malawi, Airlink, Kenya Airways and LAM Mozambique Airways.

The Nampula Airport is located within the city thus it is nearby many tourist attractions in Nampula. The airport is just a driving distance to the city cathedral and the National Ethnographic Museum.
Tourists who enter Mozambique from Nampula Airport should hire cars from VIPcars.com for convenience. At VIP Cars, we pride ourselves as the leading car rental service provider. We enjoy association with biggest rental suppliers in the country and we provide all types of vehicles that meet the demands of our many clients.