Car Rental Pemba Airport [POL]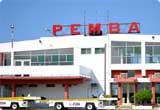 The Pemba Airport is located in the southwestern city of Pemba in Mozambique. The airport serves flights from commercial airline companies such as Airlink, LAM Mozambique Airlines. Moreover, it also has a cargo terminal that caters to Avient Aviation Cargo Airlines.

The Pemba Airport is decent and has standard facilities such as a big waiting area, shops and restaurants. On the other hand, the airport is located near the metropolis thus it is nearby many attractions in Pemba which include the Souk Market and the Ponta Romero Lighthouse.

Tourists who get to Pemba via air transport should hire cars from VIPcars.com. Our fleet includes cars from luxury as well as economical segment to fit whatever travel our clients' needsare. Our vehicles also come with all inclusive packages which include free airport fee and road taxes. At VIP Cars, we make sure that tourists can explore the city affordably with our low price guarantee.