Car Rental Sao Jorge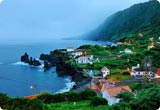 Sao Jorge is an island located in the central Azorean archipelago of Portugal. Sao Jorge is a comparatively elongated thin with big cliffs and is distinguished from its closest neighbors by a 15 km passage. The main festivals popular on the island are not different to those famous on the islands of the archipelago. There are the festivals of Espirito Santo that are focusing on the several high-handed across the island. These festivals happen each Sunday throughout the 7 weeks before Easter. Velas' Semana Cultural is another festival that mingles local ethnicity and cultural charms from overseas. Throughout this week, presentations and exhibitions of local Azorean culture are mingled with bullfights, local concerts, and lastly a regata amongst Horta and Velas. The Romaria de Santo Cristo and the Romaria de Nossa Senhora de Carmo, which happens yearly in the Faja do Vimes are popular progressions.

Avail top car rental deals in Sao Jorge with VIP Cars at competitive prices.