Car Rental Portugal - Azores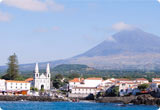 Azores are a group of islands located in the Atlantic Ocean and are asovereign region of Portugal. This is an over-peripheral area of the European Union. Lagoa das Sete Cidades is a lovely hour glass green and blue body of water renowned as a caldera northwest of Ponta Delgada. Lagoa das Furnas is a lively caldera with steam vents, geysers and mud pots.
Lagoa do Fogo is an attractive caldera lake and is renowned for its striking views and white sand beach. At Pico Island, you can go up the mountain around 2351 m above sea level. Angra is a historical city in Terceira Island and registered as an UNESCO heritage patrimony city.
VIP Cars offer low-cost Portugal-Azores car rental services to both leisure and business travelers. We give you cheapest deals, zero cancellation fee, top rental inclusions and more, Book your car rental online now!