Car Rental Aguadilla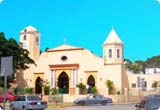 Located on the northwestern tip of the Commonwealth of Puerto Rico, Aguadilla is 84 miles west of San Juan. Spread across 36 sq mi, the city is best known for its sunshine beaches, which are heaven for sufferers, divers, and outdoor sports lovers. With plenty of seaside resorts offering comfier staying options, you can choose any of the places that you feel like. Eat, drink, or enjoy a leisure stroll on the beach. Meanwhile, other points of tourist interest include - Aguadilla Ice Skating Arena, Las Cascadas Water Park, Banyan Treehouse, Columbus Cross, Fisherman's Monument, Punta Borinquen Lighthouse Ruins, and Punta Borinquen Golf Course. Rafael Hernández Airport is the nearest aerodrome facility to Aguadilla.

Grab a super saver Aguadilla car rental deal from VIP Cars!