Car Rental Riyadh Downtown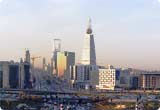 You simply cannot go to Riyadh and not visit Downtown. It is the hub of all entertaining activities. Be it shopping or fine dining, outings or adventure, everything you need is there in Riyadh Downtown. There are numerous fun places you can go with your family and friends. But for convenient traveling, you would require a car.

You must visit Al Mismak Castle as well as the National Museum and become acquainted with the history of Arabia. Also check out the Kingdom Center and Al Faisaliyah Center as they will make you marvel at architectural beauty. So get in touch with us and get yourself a car for accessible traveling. Our services are guaranteed to make a positive impression on you.