Rent a Car in Praslin Island & Witness the Best of Seychelles in Total Comfort!
---
| | |
| --- | --- |
| Minimum age to rent a car in Praslin: | 21 years |
| Minimum car hire period: | 1 day |
Make a car rental booking for Praslin Island from VIP Cars and explore this beautiful island and its famous beaches like Anse Lazio or Anse Georgette, at your own pace and schedule. Though with us, you can pick your car rental virtually anywhere on Praslin Island, Praslin Island Airport (PRI) and the Ferry Terminal are some of the most popular places where tourists love to request their rental cars pickups.
Why rent a car in Praslin Island?
Almost all travelers visiting Praslin Island go for a rental car as it is 'actually' the best way to explore the island! This is because,
In Praslin Island, just like other places in the Seychelles, taxis are reported to be very expensive, whereas a car rental, on the other hand, proves to be quite economical.
And secondly, though buses are available, their schedules are so erratic that if you are planning to travel around in buses, it is possible that a lot of your time will be wasted while waiting.
So do what the experienced travelers do, rent a car for Praslin Island and make a beeline for a great traveling experience in Seychelles!
How to Rent a Car in Praslin Island with VIPCars?
On VIPCars.com, car hire booking can be made in three ways, stated below:
All these paths follow the same three-step booking process which starts with a search, followed by comparison and ends in payment that you need to make to seal the deal.
Car Rental Companies that Provide
Deals for Praslin Island
On VIP Cars' booking engine, you can rent a car for Praslin Island by comparing car rental deals offered by the following suppliers
In case, you are thinking of requesting pickup at Praslin Island Airport, there is nothing to worry about as our car rental companies also offer pickup in the areas of Grand Anse region.
Car Categories Available for Renting
at Praslin Island
VIP Cars and its suppliers offer the following car categories that the travelers can choose from while renting their cars for Praslin Island:
This list is not final; it varies from supplier to supplier and may also change with change in car rental dates and pickup time.
Things you should know while driving Your Rental Car in Praslin Island
In Praslin Island the speed limit is 40 km/h, however, do keep an eye on the sign posts and if you see one, do follow what it instructs.
Just like anywhere in Seychelles, in Praslin Island, the cars are driven on the left-hand-side of the road and the priority is given to the vehicles that approach from your right.
In Praslin Island, all the tourists are allowed to drive their rental cars on their native driver's licenses provided they are staying up to 3 months; if your stay is longer you will need an International Driving Permit.
In the event of an accident, inform the police, wait for them and do not move your vehicle unless the officer has given you the permission. The police phone helpline number is 999.
Wearing seat belts is a compulsion that every driver and the front-seat passenger has to follow.
Drunk Driving is illegal and the permitted blood alcohol level by law is 0.08%.
Ferry Trip From Praslin Island - Enjoy Seychelles at its Best in A Car Rental!!
Praslin Island to Mahe Island
With us, you can take a trip from Praslin Island to Mahe Island by renting a car from one of our suppliers; 'Absolute Cars' allow such trips. And since that means that you would need to transport your car in a ferry, note that in this case, the 'ferry' charges may also apply. However, there is one other alternative in case the suppliers can't allow the car to be taken on a ferry – you can book two cars, one for Mahe and one for Praslin. You can park your car at the ferry station Terminal's parking, aboard the ferry and can pick up your car in Mahe on disembarking. Here are a few places that you can visit in Mahe Island in your rental car:
Daily Ferry Connections : 2 - 3
Ferry Time : 50 - 60 mintues
Top Things to See in Mahe Island
Sir Selwyn Selwyn-Clarke Market

It is Victoria's - Mahe's capital - main market; built in 1840, it is a national landmark noted for its early-Victorian Style architecture. It is now a colorful chirpy place where you can get access to fresh fruits, vegetables, fish, meat, and spices. The market remains open from Monday through Saturday.

Aldabra, its Giant Tortoises & the Botanical Garden

Though these giant tortoises get their name from the Island of Aldabra, they are found on many islands in Seychelles. Indigenous to the country, these giant Tortoises can live up to more than 150 years. Mahe's Botanical garden, dwelling place for these mythical creatures, is also home to the palm trees and tropical plants.
Bays and Beaches

The very first thing that you should do on reaching Mahe is, have a great time exploring its beaches and bays. First on the list is Beau Vallon which is a beautiful bay located on the north-eastern coast of Mahe, it is the best for swimming and snorkeling. Other two must-visits places are Anse Royale and Port Launay.

Tea Factory and the Plantation

Your trip to Mahe would not be deemed complete without a visit to the tea factory and its plantation. The best way to see the tea factory is via a 15 minutes tour - an affordable tour which gives the details about how the tea is dried, sorted and blended before packaging.
Points of Interests in Praslin Island
If your vacation plans are limited to just Praslin, we are listing a few places on the Island that you should not miss at all costs. Explore them in your car rental and make your vacation experience more memorable!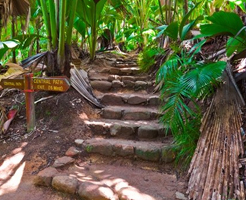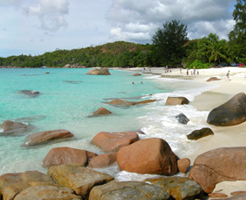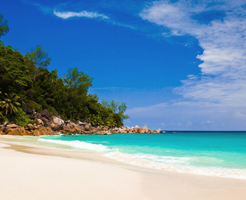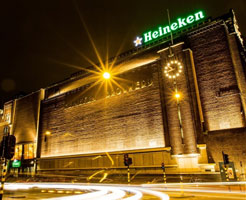 Praslin Island Car Rental FAQ's
Will I receive the exact car rental which I booked online for Praslin Island?

Though we try our level best that the exact vehicle is provided to the customer, sometimes it is not possible because of low availability which might be the result of accidents or repairs etc. However, the good part is that even if we are not able to get the exact vehicle, we still make sure that you get an equivalent or higher car category.

What Shall I do in the case of a car accident?

In case of an accident, we advise that you should inform the supplier from whom you rented the car, as well as the local police – they will fill the accident report form for you and it is mandatory for insurance reasons. Without it, you will have to bear all the damages done to the rental car.

If the Police say that the accident was not your fault, you will not have to pay for the damage. And, if the accident was your fault, the police report and evidence will help you seek your insurance.

What documents Do I need while picking up my rental car in Praslin Island?

The renters will need a valid passport or another internationally identified identity proof, a valid driver's license and in case you are going to pick up the car rental at the airport (or over a layover), you might also have to show your ticket or a simple departure ticket, and an active credit card. For the travelers who are the residents of Western Europe, the USA, or Commonwealth countries, they do not require an entry visa.

Can I change the dates of my Praslin Airport car rental booking?

Before the car rental pick-up: In this case, you can make changes to your reservation by visiting the 'Manage Booking' page on our website. You can also do it by either sending us an email at support@vipcars.com, by contacting our booking support or by directly contacting the supplier.

During the rental period: If you want to make changes to your car rental drop-off dates or location after the pickup, we advise you to get in touch with the supplier.