Car Rental Singapore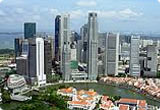 Singapore is also known as the Republic of Singapore and is an island city-state that is made up of 63 islands sitting off the southern point of Malaysia. Singapore is highly urbanised but that does not mean that there aren't many wonderful attractions to visit. Although Singapore is made up of many islands it is still worth hiring a car through VIP cars in order to explore.

You can visit the Bukit Timah Nature Reserve, that contains the last significant area of rainforest that is left in Singapore, and is also home to the highest point in Singapore the Bukit Timah Hill.

Singapore is also home to various man-made wonders that include the Gardens by the Bay. This is an oasis of plants that are both rare and beautiful. If you want something a little more natural you can take a river safari to spot some of the endangered species, that still live within this unique habitat.