Car Rental Bukit Timah Road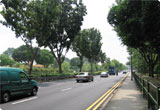 An important land route between the Woodlands Road to City Center, Bukit Timah Road is about 16 miles in length. Named after a famous hill, the road crosses through several notable areas of Newton Road, Bukit Timah, Little India, Singapore Botanic Gardens, and the Farrer Road. One of the liveliest tourist hangout places, the road connects to Johor Bahru. Book a rental car from VIP Cars, a renowned car rental broker that provides best-in-class car hire deals through its alliance partners such as, HAWK Rent a Car and Sixt. As the road is home to some of the biggest shopping hubs like the Ten Mile Junction Mall, Bukit Timah Plaza, and as well as Bukit Timah Shopping Center, you can enjoy splurging on variety of merchandise.

Book a rental car now!