Car Rental Bern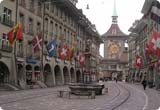 Serving as the capital of Bern canton, the city of Bern is home to a historic old town, a UNESCO World Heritage Site. Known for its seven major festivals namely, BeJazz Summer and Winter Festival, Buskers' Festival, Gurtenfestival, Internationales Jazzfestival, Queersicht – Queer Filmfestival, SHNIT International Short Film Festival, and Taktlos-Festival, Bern is thronged by hundreds of visitors. Get a cheap and best Bern car rental deal from VIP Cars, and experience the true essence of Swiss culture.

Guide to Bern
Situated on the Swiss Plateau, Bern is just 12 miles north of the Bernese Alps. Notable tourist attractions include - Zytglogge Clock Tower, Zentrum Paul Klee, and Stadt Theater. While Bern Airport located around 3 miles away is the nearest major aerodrome facility, EuroAirport Basel-Mulhouse-Freiburg, situated about 68 miles away, is another major airport that serves Bern and its nearby suburbs.

If you have been looking for an unbeatable Bern car rental deal, you are already at a right place!