Car Rental Chiang Rai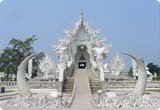 Spread across 60 sq mi, Chiang Rai is one of the largest cities of northern Thailand. Count on VIP Cars, the leading car rental broker, for its proven ability to get you a cost efficient Chiang Rai car rental deals. Our simplified Chiang Rai car rental booking form, complemented by multi currency booking functionality, lets you reserve a suitable commuting deal in just three easy steps. Furthermore, our rental deals are not restricted to few cars, but cover a wide range of car segments.

Guide to Chiang Rai
Located around 124 miles and 534 miles away from Chiang Mai City and Bangkok respectively, Chiang Rai is famous for number of Buddhist Temples. Chiang Rai is served by two major airports including, Chiang Rai International Airport and Tachilek Airport, located at an approximate distance of 6 miles and 45 miles respectively.
Search no beyond than our cheap and best Chiang Rai car rental deals!