Car Rental Khon Kaen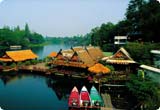 A major hub for political, commercial, and tourist activities, Khon Kaen attracts hundreds of tourists every year. With major roads networks offering flawless road connectivity to Khon Kaen and its nearby regions, a rental car is a best transportation medium. Besides visiting nearby attractions, a rental car lets you drive to number of other distantly located tourist hotspots.

Guide to Khon Kaen
Capital of Khon Kaen Province, Khon Kaen city is famous for its Buddhist Temples and Khon Kaen National Museum. Spread across 18 sq mi, Khon Kaen is conveniently approachable via two major roads namely, Na Muang and Klang Muang. You can also opt for two east-west roads including, Srichan Road and Prachasamosorn Road. Khon Kaen is served by Khon Kaen Airport located just5 miles away from the city center.
Book a lucrative Khon Kaen car rental deal from VIP Cars now!