Car Rental Ko Samui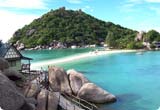 Situated just 22 miles away from Surat Thani Province, Ko Samui is a major tourist destination of the Kingdom of Thailand. Surrounded by sixty small islands, which form the Ang Thong Marine National Park, Ko Samui is a part of Mu Ko Samui Archipelago. Besides its spectacular natural beauty, Ko Samui is known for its grand festivals like, Buffalo Fighting Festival, Triathlon Event, Ten Stars Samui Art Party, and Samui Regatta. Book a low tariff Ko Samui car rental deal well in advance from VIP Cars to avoid peak season rush.

Guide to Ko Samui
Spanning across 229 sq km, Ko Samui ranks among largest islands of the Southeast Asia. Famous for its coral reefs, white sand beaches, and abundant coconut trees, Ko Samui attracts thousands of tourists every year. Samui International Airport, located around 16 miles away, is the closet aerodrome facility to Ko Samui.
Choose VIP Cars for best-in-class Ko Samui car rental deals!