Car Rental Pattaya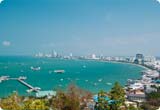 Distinguished by its splendid seaside resorts, hilltop temples, and number of events such as, Chinese New Year, Burapa Pattaya Bike Week, Pattaya International Music Festival, and Pattaya Classical Guitar Festival, Pattaya is worth a visit. With VIP Cars offering wide range of economically priced Pattaya car rental deals through its suppliers, you can be assured of a best commuting deal. All you need to do is choose a car that best suits your holidaying requirements.

Guide to Pattaya
A happening beach resort city located on the eastern coast of the Gulf of Thailand, Pattaya lies within the Chonburi Province. Situated approximately 81 miles away from Bangkok city, Pattaya boasts of a large Pattaya-Chonburi Metropolitan Area. U-Tapao International Airport, located approximately 30 miles away from the city center, is the nearest aerodrome facility to Pattaya.
Just search, select, and book a cheap and best Pattaya car rental deal in three simple steps!