Car Rental Zhuliany Airport (IEV)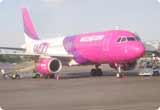 Primarily serving the Ukrainian capital region, Zhuliany Airport is an exclusive public usage airport. With more than 862,000 passenger enplanements recorded during one year, the airport ranks among the busiest aerodromes of Europe. VIP Cars, a widely acclaimed car rental broker, offers luxurious and best priced Zhuliany Airport car rental deals through its alliance partners such as, Alamo, Sixt, Easy Cars Rent, Budget, Aro Cars, Hertz, Avis, and Europcar.

Guide to Zhuliany Airport

Also known as Kyiv International Airport, Zhuliany Airport is located in Kiev's Zhuliany neighborhood. A major centre of business aviation, the airport serves as a hub for three leading airlines namely, Khors Air, UTair Ukraine, and Wizz Air Ukraine.

Think lucratively priced Zhuliany Airport car rental deals! Think VIP Cars!