Car Rental Ivano Frankivsk Downtown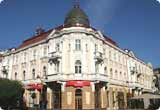 One of the most sought after nightlife destinations, Ivano Frankivsk Downtown is best known for its nightclubs, discotheques, bars, and restaurants that serve delicious Ukrainian dishes throughout the night. As the downtown is also dotted with number of worth seeing attractions such as, museums, cathedrals, art galleries, parks, and shopping plazas, you can drive to as many places as you can. With VIP Cars powered Ivano Frankivsk Downtown car rental deal coming with an unlimited mileage plan, you can drive freely and explore numerous off the track locations as well.

Don't hesitate to call our customer care representative in case you need further assistance regarding Ivano Frankivsk Downtown car rental reservation process.