Car Rental Odessa Airport (ODS)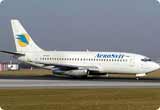 A joint civilian/military aerodrome facility, Odessa International Airport is located just 4 miles southwest of Odessa city centre. With more than 907,600 passenger enplanements in a year, Odessa Airport ranks among the busiest aerodrome facilities of Ukraine. VIP Cars, a leading car rental broker, offers attractively priced Odessa Airport car rental deals through its alliance partners such as, Alamo, Budget, Sixt, Avis, Easy Cars Rent, Hertz, and Aro Cars.

Guide to Odessa Airport

Operational since 1961, Odessa International Airport is spread across 570 hectares. Major airlines that operate regular flights from the airport are - Aerosvit Airlines, South Airlines, Aeroflot, Ukraine International Airlines, LOT Polish Airlines, and Turkish Airlines.

Book a negotiated Odessa Airport car rental deal in just three simple steps now!