Car Rental Bullhead City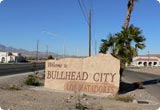 Bullhead City is a city situated on the Colorado River in Mohave County, Arizona, USA. Economically, Bullhead City has a bracing housing market and tourism is far and away the primary economy in the city. The city is home to an international airport, a community college, and 2 full-service hospitals. The city also functions as the shopping centre of the tri-state area. The city houses hundreds of acres of city-controlled parks. Ken Fovargue Park has a bike trail, lighted basketball courts, a playground, ball fields, and a public swimming pool with a water slide. Bullhead City is well-known for hosting loads of yearly events with the most famous being the yearly River Regatta. Other events get benefit of city's outstanding climate particularly in the autumn and winter months. Only a couple of miles south of the city bounds in Fort Mohave is the Mojave Crossing Event Center.

Get top-notch and low price car rental deals in Bullhead City from us.