Car Rental Flagstaff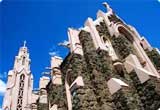 Flagstaff is a city situated in northern Arizona in southwestern United States. Flagstaff is the county seat of Coconino County. The city has a robust tourism sector because of its closeness to Oak Creek Canyon, Grand Canyon National Park, the Arizona Snowbowl, historic Route 66, and Meteor Crater. The area adjoining Flagstaff is a hotspot for outdoor activities such as hiking, mountain biking, and rock climbing. Mount Elden is asplendidbeginning point with several trails hoisting and alongside utmost sides of the mountain. Arizona Historical Society-Pioneer Museum is a small state museum gathers preserves and displays artifacts, photographs and documents of the history of Flagstaff and northern Arizona.Jay Lively Ice Arenais the single permanent indoor ice rink in the city.

With so much to see and do in Flagstaff, most of the travelers prefer to rent a car to plan their stay.