Simplify Your LA Trip by Availing Best Priced Los Angeles Airport (LAX) Car Rental Deals!
Hire a car at Los Angeles Airport and get going with your travel itinerary, which unsurprisingly covers a list of places scattered across the vast city of Los Angeles. At VIP Cars, we offer best online car rental booking experience. With a booking engine that lets you search and book a rental car in just three easy steps, you will save your time and money. Additionally, an online car hire reservation made in advance saves the hassle of standing in queue and waiting for your rental car at LAX Airport.
Which is the most convenient way to explore Los Angeles?
Despite the fact that public transport system is well-developed in Los Angeles, most people prefer to rent a car at LAX Airport. VIP Cars with its strategic alliance with leading international as well as LA-based car hire companies, such as Alamo, Dollar Tour, Thrifty Tour, Sixt and Alamo Car Rental among many others, offers cheapest car rental deals at LAX. As Los Angeles continues to be among the most favored tourist destinations, we recommend an early car hire reservation toa void any hassle of preferred rental availability at last moment.
Why Book a Rental Car at Los Angeles Airport?
Hiring a car at LAX gives you tremendous flexibility and freedom to move around. A rental car simply broadens your reach within the city and surroundings, allowing you to explore and discover more. Be it touring around leading tourist attractions or cruising celebrity hot spots, you can travel with ease from city's one end to other.
If Disneyland, Universal Studios, Rodeo Drive & LA Zoo are not enough reasons for you to have access to a car of your own in Los Angeles, then road trips to dazzling city of Las Vegas or to the beautiful Grand Canyon should be. A drive across Route 66 is without a doubt an experience to cherish.
A rental car at LAX means luxury to plan your stay in and around Los Angeles as you please.
Why use VIP Cars To Book Rental Car at LAX?
All Inclusive Pricing

VIP Cars gives you access to best & most economical LAX car rental deals inclusive of taxes, airport surcharge, and other associated costs.

Renowned Suppliers

VIP Cars, in collaboration with globally renowned car rental companies, offers a wide range of rental fleet to choose from. Whether you are in Los Angeles for sightseeing or a business trip, with us you could always find huge rental options to suit your commuting requirements, starting from budget-friendly standard/intermediate and compact to roomy van/minivan, rugged 7 & 9 seater SUV car hire, stylish convertibles and premium luxury cars.

Value for Money

Our best in class booking engine lets you compare car rental deals of various leading car rental companies. You can easily compare and instantly book a value for money LAX rental car deal, which comes with no hidden charges.

24/7 Customer Support

With a dedicated customer support team always ready to assist, you can get in touch anytime should a need arises. Whether you wish to know the rental documents like ID proof, valid license or available payment options, have queries on cross-border travel from LA to other city or simply are not able to access our booking form, just call our support team & talk to them no matter what time is it.

Easy Cancellation

VIP Cars offers free cancellation if you decide to cancel your Los Angels car rental deal 24 hours before the pick-up time.
How to Rent a Car at LAX?
Follow the signboards directing to Baggage Claim area, collect your luggage, and step outside. This is the place where you will come across the shuttles of rental car companies. Board a shuttle of your rental car provider and collect your car within next 5 to 15 minutes. Though all rental car companies have kiosks and their representatives present at the airport, the vehicles are parked at off-site lots.
Where to Return Rental Car in Los Angeles?
While you have an option to return your rental car at LAX, you could always choose from following alternate drop-off locations for car hire at LAX airport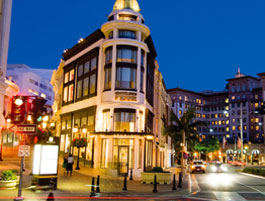 Beverly Hills
455 North Rexford Drive, Beverly Hills, CA 90210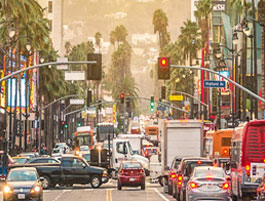 West Hollywood
About 16 miles northeast of LAX via I-405 N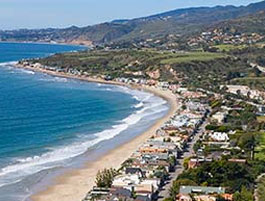 Los Angeles Venice Beach
1800 Ocean Front Walk, Venice, CA 90291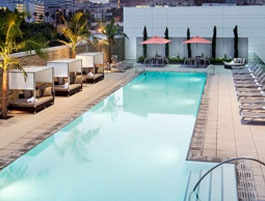 Los Angeles Residence Inn Resort
901 W Olympic Boulevard, CA 90015
If you choose LAX as a drop-off location, you will have to return the rental car at an airport off-site point and board a shuttle to return to LAX terminals.
Things To Consider While Renting a Car at LAX
Rental Car Companies Location
Look for the Aviation Boulevard as all leading car rental companies operate from there.
Best Time to Drive
Although city's downtown area is located just 16 miles away from the airport, reaching downtown from LAX can consume about one hour during the day. Best time to enjoy a drive in your rental car is between 11 pm to 5 am.
Rent a Car Equipped with GPS
As an extensive network of freeways crisscross Los Angeles, one finds it quite difficult to navigate in-between an elaborated web of roads. Book a rental car equipped with a GPS that makes your drive an effortless experience, while you are behind the wheel.
Saving Extra Charges on Car Hire
Prefer full-to-full fuel policy, while booking a rental car. You can save additional charges by simply refilling the tank just before returning your rental car.
Get a great deal today from VIP Cars on your Los Angeles Airport car rental!
About Los Angeles Airport
Largely catering to the Greater Los Angeles Area, Los Angeles International Airport or LAX is not only one of the largest international airports of the United States but is also the busiest airport of California. Consisting of nine passenger terminals, the Los Angeles Airport offers nonstop flight connectivity to various destinations across Europe, North America, Latin America, Africa, the Middle East, Asia, and Oceania. LAX offers following amenities in terms of passengers' comfort:
Tourist as well as general information counter is located in Arrival Halls.
The Tom Bradley International Terminal, which handles majority of foreign carriers, houses baggage storage facility.
LAX is a disabled-friendly airport well equipped with adapted elevators and wheelchair ramps.
Los Angeles International Airport, 1 World Way

Los Angeles, California 90045

IATA Airport Code:

LAX

ICAO Airport Code:

KLAX
Shopping at Los Angeles Airport
Featuring a multitude of buying options, Los Angeles Airport shops have something for everyone. Whether you wish to explore the duty-free stores or some exclusive brand shops, you'll find all of them at LAX Airport terminals.
Brookstone
The specialty retail store sells a number of electronic gadgets, gift items, and travel accessories.
I Love LA
The retail store stocks a large collection of souvenirs and a variety of over-the-counter snacks.
Treat Me Sweet
The merchandise store sells a wide range of seasonal sweets/desserts packed in easy to carry cases.
CNBC Smartshop
The retail outlet is known for its assortment of newspapers, books, and travel-essential items.
ESavvy
The famous electronic store sells adapters, chargers, headphones, and other critical accessories.
DFS Duty-Free
The duty-free retail store features an extensive collection of cosmetic products and other goods.
Soundstage Market by Hudson
The grab-and-go airport retail outlet is known for its collection of delicious snacks and beverages.
Hudson News
The airport retail outlet is engaged in selling newspapers, books, magazines, and travel accessories.
DFS Duty-Free
The duty-free retail outlet stocks a huge collection of cosmetic products and other merchandise.
Hollywood Style
The Hollywood-inspired women's clothing boutique features designer clothes and accessories.
On Time
The Hollywood-inspired women's clothing boutique features designer clothes and accessories.
See's Candies
The popular candy shop sells a wide range of chocolates, sweets, and other candy treats for all.
Hollywood Reporter
The famous retail outlet sells a huge selection of magazines, souvenirs, beverages and tasty snacks.
DFS Duty-Free
The duty-free merchandise retailer sells confectionery items, liquor, wines, and cosmetic products.
Mattel Experience
The world-famous toys retailer is popular for its huge assortment of toys and educational games.
Access Hollywood
The outlet is a one-stop shop for info on the latest television broadcast and entertainment news.
MAC Cosmetics
An all-time favorite cosmetic store sells a wide range of beauty and wellness products for women.
M. Fredric
The airport boutique is popular for its expertise in clothes and accessories for women and children.
Los Angeles Duty-Free
The duty-free retail store stocks an assortment of confectionery items, wines, and other goods.
Bartel's Harley Davidson Store
The iconic store is popular for its Harley Davidson-inspired merchandise, including apparels.
Hugo Boss
The fashion retailer is engaged in selling fragrances and fashionable attire for men and women.
E! News
The retail store sells a variety of snacks, beverages, travel essentials, and branded E! merchandise.
People News
The news and entertainment store features a wide range of newspapers, magazines, and books.
Duty-Free Stores
The list includes Burberry duty-free, DFS duty-free, Gucci duty-free, and Hermes duty-free store.
Angeleno
The retail store is famous for its collection of best-selling books, magazines, and travel accessories.
Travel + Leisure
The one-stop destination for buying luggage, travel bags, accessories, and other travel essentials.
Dining at Los Angeles Airport
Home to a large number of food joints, cafes, restaurants, and bars, LAX Airport presents a huge variety in terms of fine dining. Given below are the names of leading eating outlets operating at LAX Airport's terminals.
California Pizza Kitchen
The restaurant serves a variety of pizza, salads, pasta, drinks, and a range of other appetizers.
Einstein Bros. Bagels
The popular food joint is known for serving a wide variety of sandwiches, snacks, and drinks.
Reilly's Irish Pub
The famous pub is known for its grilled cheese, nachos, burgers, sandwiches, tacos, and drinks.
Starbucks
The world-famous cafe serves a variety of coffee alongside several other classic snacks and sides.
Fresh Brothers Pizza & Sandwiches
The retail food chain is known for serving a variety of pizza customizable with a range of toppings.
Pick Up Stix
The open-kitchen restaurant is famous for its selection of Asian-American dishes and other drinks.
Angel City Brewery
As the name suggests, the bar is known for its variety of beer alongside complementing snacks.
Peet's Coffee
The well-known cafe serves a variety of coffee alongside several other classic snacks and sides.
LA Life
The eating outlet is hot favorite among those interested in savoring a variety of LA-based snacks.
Dunkin Donuts
The world-famous food retail chain serves a variety of donuts and hot and cold beverages.
Real Food Daily
The restaurant uses only high-quality organic ingredients to prepare preservatives-free fresh dishes.
Starbucks
The world-famous cafe chain serves a variety of coffees alongside other classic snacks and sides.
Coffee Corner
The cafe is known for its extensive variety of coffee flavors and complementing light snacks.
The Coffee Bean & Tea Leaf
The small cafe serves a large variety of coffees and teas, along with a range of sides and snacks.
Loteria! Grill
The food joint is a must-visit one of you're keen to savor an authentic Mexican cuisine and drinks.
Starbucks
The world-famous cafe chain serves a variety of coffees alongside other classic snacks and sides.
BLU2o
The restaurant's menu includes a range of breakfast options, snacks, alcoholic drinks, and salads.
Osteria
The well-known restaurant chain serves a wide variety of dishes, drinks, shakes, salads, and snacks.
B Grill
As the name suggests, the restaurant serves a variety of grilled food and hot as well as cold drinks.
Rolling Stone Bar & Grill
The bar offers a great variety of alcoholic and non-alcoholic beverages besides delicious snacks.
Klatch Coffee
The ultimate destination to sit and sip your favorite coffee alongside a fresh piece of cake or pastry.
Carl's Jr – Green Burrito
The fast-food joint is best known for its selection of snacks, mini-meals, and a variety of beverages.
Panda Express
The restaurant's menu includes a wide variety of meals, snacks, desserts, hot and cold beverages.
Corona Bar
The bar offers a wide variety of cocktails, shakes, juices, and other alcoholic drinks and snacks.
800 Degrees Pizza
Discover a variety of customizable pizza options serves with a range of toppings and sides.
Chaya Sushi
Savor a wide variety of regional seafood dishes as well as snacks beside the famous sushi.
III Forks Steakhouse
A one-stop destination for a variety of menus, including special food and drinks for children.
Lounges at Los Angels Airport
LAX Airport features several plush lounges that are dotted with all the latest passenger amenities. Accessible through a membership program or a paid pass, the following lounges let you wait for your flight in comfy settings.
Which are the major tourist attractions in Los Angeles?
Often known as L.A., the City of Los Angeles is the epicenter of style and glamor of Southern California. In between its world-class restaurants, legendary boutiques, magnificent movie studios, and iconic landscapes, Los Angeles also boasts of awe-inspiring museums and thrilling theme parks.
While the city itself is a fascinating place, it can also be slightly overwhelming as L.A. is sprawling across vast 468 square miles, justifying your urge to hire a car at LAX for an uninterrupted joyride. We have compiled a list of most sought-after attractions to help you save your time and effort, while you enjoy your ride in a rental car of your choice.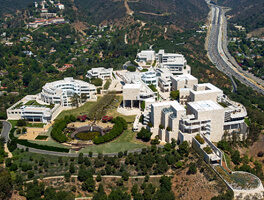 Getty Center
11 miles from LAX via I-405 N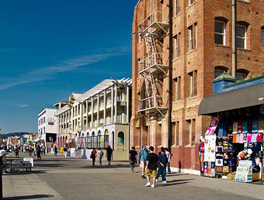 Venice Boardwalk
8 miles from LAX via CA-90 W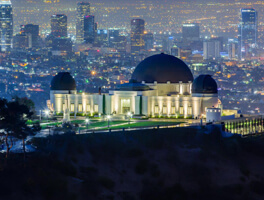 Griffith Observatory
27 miles from LAX via I-110 N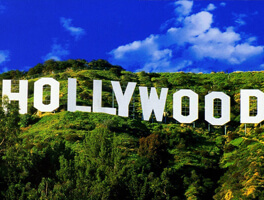 Hollywood
16 miles from LAX via I-405 N and I-10 E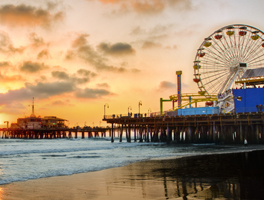 Santa Monica
10 miles from LAX via I-405 N and I-10 W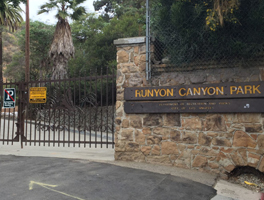 Runyon Canyon
26 miles from LAX via I-405 N and US-101 S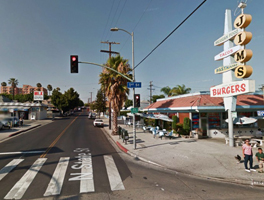 Downtown LA and Boyle Heights
20 miles from LAX via I-10 E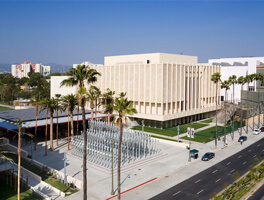 LA County Museum of Art
12 miles from LAX via I-405 N and I-10 E
Which are the best recommended road trips from Los Angeles?
LA to Las Vegas
270 miles (Approx. from LA via I-15 N)
---
3 days required for a round-trip
LA to Big Sur
347 miles (Approx. from LA via I-15 N and US-101 N)
---
3 days required for a round-trip
LA to Sonoma County
457 miles (Approx. from LA via I-15 N)
---
3 days required for a round-trip
LA to San Francisco
382 miles (Approx. from LA via I-15 N)
---
3 days required for a round-trip
LA to Joshua Tree
130 miles (Approx. from LA via I-10 E)
---
3 days required for a round-trip