Car Rental Aspen Airport [ASE]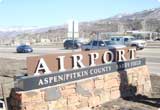 Aspen Airport, also known as Sardy Field, is a public airport serving Pitkin County in the US state of Colorado. This airport is located 6 km's northwest of the central business district of Aspen, and is wholly owned by the airport. This airport is served by American Eagle and United Express who connect it to destinations such as Chicago, Los Angeles, Denver, Houston and San Francisco. Other facilities at this airport include general aviation, air taxis, and military flights.

Aspen Airport has recently been upgraded with the runway length increased and the terminal area redeveloped for the convenience of travelers. This Airport has a number of facilities for its passengers as services such as 24/7, all year around guest services operations, a restaurant and a gift shop concessions. One can also book a rental car from us through one of our many suppliers at this airport.