Car Rental Grand Junction Airport [GJT]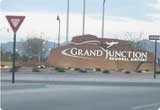 Grand Junction Regional Airport is a public airport serving Mesa County in the US state of Colorado. Located 6 km's northeast of the CBD of Grand Junction, a city in Mesa County, this airport is the third busiest in the state. This airport is used for a number of services including general aviation, air taxis, military use and scheduled commercial flights. This airport is used by a number of airlines such as Allegiant Air, American Eagle, SkyWest Airlines and ExpressJet, which connect this airport to destinations such as Denver, Phoenix, Dallas, Houston, Salt Lake City, Las Vegas and Los Angeles.

The Grand Junction Airport was first opened in 1930 and is currently undergoing renovations to upgrade its facilities. Currently there is a kid's playway area, a Subway Café, gift shop, along with the facility to book a rental car at its premises.