Denver Airport Car Rental (DEN) – Get the Right Car at the Right Price with VIP Cars
---
Book a cheap car rental for Denver Airport (DEN) with VIP Cars and explore the captivating city of Denver and its marvels as you please, in the comfort that you deserve!
So whether it is Denver's most happening 'the 16th Street Mall', the Commons Park or attractions like Coors Fields or Golden Gate Canyon State Park, a car rental will prove a great companion as it'll allow you to move about at your own pace and schedule. Even if you are visiting on business, a rent-a-car at Denver Airport will prove a great asset – you will be able to fulfill your work related commitments spot on!
Companies that offer car hire deals for Denver Airport
There are around 10 car rental desks at Denver Airport (DEN), out of which the following are VIP Cars' partner suppliers. Therefore you can directly go to the respective counter on arriving at DEN Airport, and can pick your pre-booked Denver Airport car rental without much ado.
Alamo
National
Enterprise
Thrifty
Europcar
Fox rent a car
Dollar
Car types available for hire in Denver Airport
Cheap car rental Denver Airport

Economy, sedans, compacts, minis and intermediate cars are the cheapest to rent car types. They are best suited for city travel and quite popular with solo & budget travelers.

Van rental Denver Airport

Many families rent vans & minivans in Denver with pickup scheduled for the airport. Our suppliers provide a great variety; you can compare all from 7, 8, 9, 12 to 15 passenger vans on VIP Cars.

Luxury car rental Denver Airport

Whether looking for Bentley, Corvette, Mercedes, Range Rover, Audi R8 or some other classic or exotic car, on VIP Cars, you get ample choice. Rent 3-4 months in advance for cheaper deals.

SUV rental Denver Airport

Preferred by adventure seekers, an SUV is great for off-roading and allows ample space for both equipment and people. SUV 4X4s can also be obtained but make sure you rent at least a month in advance.
Denver Airport (DEN) – Overview
Denver International Airport, also known as DIA, is an international airport. It serves the city of Denver, and areas like Front Range Urban Corridor, Nebraska Panhandle, Eastern Colorado, and Southeastern Wyoming.
It is one of the busiest airports in the world and has been providing flights to over 187 destinations around the world via air carriers like Frontier Airlines, Penair, Great Lakes Airlines, and United Airlines.
| | |
| --- | --- |
| Address: | Denver International Airport, 8500 Peña Blvd, Denver CO 80249, USA |
| IATA Code: | DEN |
Food
Here are some of the food options which fall in 'value for money' category
Ben & Jerry's Ice Cream
Best for sweets and snacks
Grill & Vine
Offers American cuisine and Breakfast
SMASHBURGER Burgers & Bar
It offers an American menu and breakfast
Auntie Anne's
Here one can enjoy Snacks & Sweet Treats
Big Bowl
It's for you if you love Asian cuisine.
Lavazza
Best for coffee and breakfast
Chef Jimmy's Bistro & Spirits
It is the place for you if you love American and Italian cuisine
Happy Cakes Café & Allegro Coffee
It is best for coffee, breakfast, snacks as well as sweet treats
Modern Market
It offers American cuisine, breakfast, snacks and sweet treats.
Boulder Beer Tap House
It offers Colorado flavors, plus year-round and seasonal brews.
Coors Silver Bullet Bar
This sports bar serves breakfast, dinner and lunch, besides beer, wine and other spirits.
Crú Food and Wine Bar
Its food menu covers pizzas, cheese and Panini sandwiches, plus a variety of wines.
Lounge 5280 Wine Bar
This wine-bar offers a selection of wines, cocktails, beer and a complementing food menu.
Modern Market
At Modern Market, one can eat Pizzas, freshly prepared sandwiches, salads; it also offers breakfast.
Rock Bottom Restaurant & Brewery
Here besides micro-brews, one can also enjoy appetizers, entrees, sandwiches and salads.
Burger King
Burger King serves burgers, snacks, sandwiches, salads, and kid's meals
Einstein Bros. Bagels
Their menu offers cheese spread, pizza bagels, baked snacks, and espresso drinks.
McDonald's
Mc D offers smoothies, shakes, Frappes, Mc Caffe and other selection of meals.
Shopping
BluWire
It sells Apple products including iPhone covers, headphones, and chargers etc.
BOSE
Here one can buy travel electronics including headphones & speakers by BOSE.
Brookstone
At the store, you can buy gadgets, toys, games and many electronics.
Esavvy
It is a technology retail store where you can buy stuff like laptops, media players and softwares.
InMotion Entertainment
InMotion Entertainment offers items like digital cameras, blue-tooth handsets and tablets.
Phone Gear
Here you can find all the wireless accessories that you might need for your phone or tablet.
Airport Baggage Center
Here one can buy Luggage accessories like baggage tags and passport holders etc.
Amore Fiori Flowersr
The store sells fresh flowers, bouquets, chocolates, perfumes and other gift items.
Brookstone
At the store, you can buy gadgets, toys, games and many electronics.
Climax Jerky
Besides food, Climax Jerky offers dry fruits and a great selection of branded t-shirts, and hats.
CNBC
Besides travel oriented products it also provides access to beverages, snacks and gifts.
Colorado Limited
It offers an exclusive clothes range for men, women, and kids. Also, a great place to buy Colorado hats.
Denver Duty-Free
Fashion accessories, alcohol, perfume, and confectionaries - Denver Duty-free offers a great variety.
Lounges
Timberline Steaks & Grille
The restaurant has an attached smoking lounge.
USO Lounge
It is specifically for military personnel and their dependants.
American Airlines Admirals Club
It offers a personalized service with amenities like Wifi, snacks & magazines.
Delta Air Lines Delta Sky Club
It provides variety of facilities with a provision to enjoy Colorado craft beer and Starbucks coffee.
United Airlines United Club (Gate B32)
It offers a sophisticated environment with profusion of amenities – Wifi, Newspapers, magazines and flight monitors.
United Airlines United Club (Gate B44)
It offers a sophisticated environment with profusion of amenities – Wifi, Newspapers, magazines and flight monitors.
Things to Do at Denver Airport
Have a Short Layover? You Can Do These Things at DEN!!
Art Walk
Denver International Airport has expansive collections of public art scattered around its terminal. Statues and murals, there are numerous artistic encounters waiting for you at DEN airport.
Sunset & the magical mountain views
Nature lovers can enjoy the mesmerizing view of the Rocky Mountains at the airport; just visit the west end of the C Gates, near gates C23 and C24. For sunset visit the large windows at the end of the C Concourse.
Surf the Internet
If you just want to sit at one place, you can pass your time by using the free Wi-Fi; you can check the news, watch movies or can use social media.
10 Hour Layover in Denver? What to do?
A 10 hour layover is enough for you to explore at least Denver's downtown area, so why stay at the airport when you can see so much! Just plan it well; with a pre-booked car rental for pickup at Denver Airport as that way you will be able to hit the road within minutes after arriving.
The trip from Denver Airport to Denver Downtown would approximately take 37 minutes provided it is not the rush hour, and since you will need to be back at least 2 hours before your flight, you will have around 6 hours to explore the Downtown area of Denver. Here are a few suggestions:
6 Hours Expedition
Denver Airport

Denver's Downtown
Best Downtown Denver Attractions
These are some of the handpicked attractions that you can easily cover in Denver's Downtown in 6 to 7 hours.
16th Street Mall: It has dozen of shops, restaurants and is close to another exhilarating neighborhood of 'Commons Park and Lohi'.
Larimer Square: Best known for its unique foodie culture and high-ended boutiques
Denver Center for the Performing Arts
So make the best use of your layover time and have a blast exploring Denver Downtown in your Denver Airport car rental!
Denver Airport Car Rental (DEN) -
Driving Tips
Denver Winter Driving Tips
If you are visiting Denver in winters, here are a few things that you need to know before heading out in your Denver Airport car rental
---
Make sure that the tires of the vehicle have good tread. You should rent snow chains while booking your rental car for Denver airport.
Try to go slow and avoid cruise control on all times.
Make sure that you have plenty of windshield wiper fluid.
Besides tire chains, it will be better if you keep other things like sand, snow scraper, snow brush and a shovel with you always.
Avoid hilly areas.
Tips for Driving Safe in Denver in Summers
Before heading out in your car rental, make sure that you look at a few things like battery checks, tire rotations, the pressure on the tires, the coolant level and checking the working of lights like the brake lights, turn signals, headlights, and interior lights etc
If you are traveling with children under the age of 14, make sure that they are seated in the back seat of your Denver Airport car rental. For kids who are much younger, arrange proper restraint car seats, something that you can rent while booking your DEN car rental at VIP Cars.
While driving, always keep an eye on the pedestrians and bikers. Also note that in case a car has for some reason stopped in the street, it is highly likely that it is letting a pedestrian cross the road. Better wait, don't pass if you aren't sure.
Always give way to the pedestrians even if there is no crosswalk, and stop at such a distance that it is easier for the other driver to see the pedestrian.
Understand the fact that it is sometimes difficult to judge the speed of the motorcycles because of their smaller size, so be careful when it comes to motorcycle riders and yield the right-of-way when required.
For emergencies always carry a first aid kit. Other things that you should keep with you in your DEN Airport car rental are : A cell phone, a flashlight, flares, work gloves, a ground mat and jack (so that you can change tires if the case arises), a duct tape, and some basic medicines
Avoid distractions at all costs like using cell phone while driving.
Day Trips from Denver
When it comes to day trip ideas from Denver, there is much to choose from. Here are some of the best day trips that we have chosen for you that you can enjoy in the luxury of your DEN Airport car rental during your stay.
Boulder
40 min drive from Denver via US-36 E/Denver Boulder Turnpike
Garden of the Gods
1 hour 8 minutes drive from Denver via I-25 N
Aspen
It is 3 hours 45 min drive from Denver via I-70 E
Vail
1 h 41 min from Denver via I-70 E
Mount Evans Scenic Byway
It is about 1 hour 33 minutes drive from Denver via I-70 E
Dinosaur National Monument
It is 4 hours 32 min from Denver via US-40 E
Great Sand Dunes National Park
It is 3 h 58 min from Denver via I-25 N
Pikes Peak
It is 2 h 5 min drive from Denver via I-25 N
Cheyenne Mountain Zoo
It is 1 h 14 min drive from Denver via I-25 N
Denver Airport Car Rental –
Offered Inclusions and Add-ons
All the Denver Airport car rental deals come with various inclusions and optional add-ons, and though they vary from supplier to supplier, here are a few common ones that are usually offered:
Inclusions: You don't pay anything extra for these; their prices are already covered in the deal's quoted price.
Collision Damage Waiver
Theft Waiver
Unlimited Mileage
Gas Stations and Gas Prices
near Denver Airport (DEN)
These petrol stations are among the ones which are nearest to Denver Airport where you can refuel your DEN Airport car rental.
---
Conoco

Location: 7680 Peña Blvd, Denver, CO 80249 8 minutes drive from Denver Airport via Peña Blvd

Gas Price: $2.30/Regular

Location: 7080 Tower Rd, Denver, CO 80249 12 minutes from Denver Airport by car via Peña Blvd

Gas Price: $2.28/Regular
Top Attractions in Denver, Colorado
Denver Museum of Nature and Science
Denver Museum of Nature and Science is a history and science museum which is also known for its IMAX Theater which shows 3D films daily!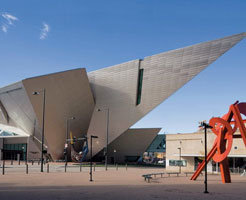 Denver Art Museum (DAM)
With western and regional works displayed over 7 stories, DAM is one of the largest art museums in Chicago and the West Coast.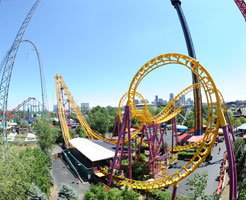 Elitch Gardens Theme Park
Elitch Gardens Theme Park is a seasonal water park and an amusement center.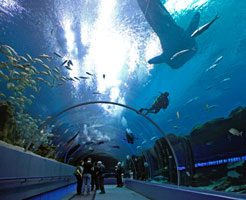 Downtown Aquarium, Denver
Denver's Downtown Aquarium is best known for its exceptional underwater exhibits and a much-loved on-site eatery.